Turtle Airships















Picture
(click to enlarge):
Subjects:
Why "turtle"?





Because it has a SHELL.

A hard, facted, durable, all weather, strong shell. Unlike blimps or zeppelins; which are built as glorified balloons...which can leak and tear and fall apart in sunlight.



Because it is FAST.

The incrongruity of a fast Turtle is meant to surprise and intrique. Blimps and zeppelins are slow because of the flexibility and lack of structural strength of their fabric and laminate envelopes. The Turtle shell makes it strong, rigid......and fast. To 200mph.........



Because it is AMPHIBIOUS.

Blimps and zeppelins land and tie up at mooring masts. They need large ground crews to land. The Turtle airship, on the other hand, can land anywhere. It can land on an unprepared field, or land in the water.........just like a turtle.



Because it looks like a turtle.

The bow and stern planes give the impression of a turtles' four legs sticking out from its' shell. The position of the three bottom hulls appears much like a turtles' head and forelimbs underneath its' shell.



Because its' "slow, but sure".

At one third the speed of a large jet......it is safe and steady. No turbulence. No banking or climbing like an airplane. Quiet. Calm. No jet lag. Comfortable........with walk around room and private staterooms. Totaly safe. No high speed make-or-break approaches to runway landings. No wind shear dangers. Immune to the same bombing, shooting, missiles, or hi-jack attempts that threaten airplanes.



Because it's SOLAR POWERED.

Just as a cold blooded turtle climbs out of the water and soaks up the sun.........so Turtle Airships collect sunlight in photovoltaic solar cells in order to generate electricity for power. With fuel cells and a bio-diesel back up capability, it makes the Turtle airship into a truly "green" technology; and changes flight forever.

Because who could ignore, or ever forget......A FLYING TURTLE ??!!
Eco-friendly Turtle Airship design
intro:
It certainly doesn't hurt to have, eco-friendly one like the Turtle Airship that Darrell Campbell, the designer of Millennium Airship is working on. The picture is that of a Millenium Airship.
Subjects:
Eco-friendly Features:



• The outer frame-work of the Airship to be made of titanium, aluminum or stainless steel would be incorporated with amorphous thin films of photovoltaic cells to harness solar energy.

• The electricity produced runs the electric motors and propellers of the Airship.

• The electric motors use lighter super conducting magnets rather than copper wires.

• The excess energy produced in the day is used to split water into hydrogen and oxygen, to function as fuel cell as an alternate during night and cloudy conditions.

• Bio-diesel powered generators are also built-in to circumvent any remote chances of solar and fuel cells' failure.
Millennium Airship, Inc.
Picture
(click to enlarge):
Millennium Airship
, creators of a revolutionary new hybrid heavy lift aircraft, the
SkyFreighter
.
Intro:
Millennium Airship Inc.

founded in August 1998. The primary goal of the company is to design, engineer, build, market and operate the world's first

HEAVY-LIFT AIR VEHICLE

that is:

lighter-than-air, all-weather, amphibious semi-rigid, multi-mission, hybrid.

The key feature of this aircraft will be in that it is so maneuverable, that it can operate in and out of virtually anywhere (land or sea) where there is enough space to accommodate its size.
Subjects:
DARPA (Defence Advanced Research Projects Agency) WALRUS PROJECT



"Fort to the Fight" Unit of Action - At a meeting organized by the Joint Chiefs of Staff, JCS J-4 Mobility Division in April 2001 at the Pentagon, the desire for a prototype demonstration of "SkyFreighter" was requested by all branches attending. We fully believe this airship and it's unique capabilities will provide our Armed Forces with a "mission" diverse transport that can get the troops, armor and supplies to the point of conflict. And, provide Homeland Security Agency with a smaller version of "SkyFreighter" for Extended Duration (3 days) Maritime Coastal Patrol and Drug Interdiction. The military requires an air vehicle that can lift 500 plus tons, cruise at 100 mph, travel 12000 miles in 7 days, and fly at altitudes up to 20,000 feet. The Millennium Airship, Inc DARPA Proposal was mailed on March 30 to DARPA. Even though the DARPA project has been cancelled for now, all branches of the military and Homeland Security have definite requirements for this aircraft.



Benefits



1) Because of its massive lifting capacity, SkyFreighter can bring the "Fort to the Fight."
2) SkyFreighter can land almost anywhere, land or sea. No airport or ground support required.
3) Unlike all other airships, SkyFreighter does not need ballast transference when loading or unloading.
Picture
(click to enlarge):
Military Blimps
4 New 'Blimp' Designs Bring Return of the Airship
Picture
(click to enlarge): Aeros's new ballast-free airship design may soon be tested for the Pentagon in a demonstration craft.
Intro:
Always on the verge of a seeming comeback, airships are back in the spotlight, touting new technologies. The Defense Advanced Research Project Agency recently announced funding for an innovative, ballast-free airship technology created by Aeros Aeronautical Systems, based outside Los Angeles. The Aeroscraft ML866's potentially revolutionary Control of Static Heaviness system compresses and decompresses helium in the 210-ft.-long envelope, changing this proposed sky yacht's buoyancy during takeoff and landings, Aeros says. It hopes to end the program with a test flight demonstrating the system. Other companies are planning their own first flights within the next few years. Each has a design that it promises will launch a new era of lighter-than-air transportation.
Picture
(click to enlarge): HAA
Picture
(click to enlarge): SA-60
Picture
(click to enlarge): Skycat-20
Boeing to Build SkyHook Neutrally Buoyant Rotorcraft
Picture
(click to enlarge): SkyHook Lifting Off (Source: Boeing)
Intro:
Boeing and SkyHook International have announced that they intend to team up for a new aircraft called the JHL-40 (Jess Heavy Lifter). The JHL-40 is a new commercial heavy lift aircraft that is intended to transport equipment and materials in remote and harsh regions such as Alaska or the Canadian Arctic.

Boeing will build the JHL-40 neutrally buoyant rotorcraft for SkyHook, which will own, maintain and operate the JHL-40 for commercial clients.
Subjects:
The aircraft utilizes a helium filled envelope that provides enough lift to make the JHL-40 aircraft, engines, and crew neutrally buoyant. The four rotors will generate lift that is only needed to support the payload. According to Boeing and SkyHook, the JHL-40 will be able to lift loads as heavy as 40 tons and transport them up to 200 miles without refueling.
Boeing's New Heavy Lifter
Picture
(click to enlarge): SkyHook in Transit (Source: Boeing)
Intro:
You can bet the Army will be looking into this for their Joint Heavy Lift platform. Believe it or not, something very similar to this is discussed in great detail in the original Defense Science Board report on Sea Basing.

When you start thinking about this technology, and the maturity potential, the absence of a military commitment to date is curious. We tend to think there is a lot of capability here long term.

Picture
(click to enlarge): From
Giant Blimp, Deflated [>]
. A quote -
No! Nooooo! Say it ain't so, Darpa! The Walrus program -- the fringe-science agency's awesomely, almost insanely, ambitious plan to build an aircraft carrier-sized blimp -- is over, Defense Technology International discovers.

Picture
(click to enlarge):
From
BAE SYSTEMS FLOATS AUTONOMOUS SYSTEM AT FARNBOROUGH INTERNATIONAL [>]
. A quote -
A 22 meter long airship, originally developed by balloonist and adventurer Per Lindstrand, could become the latest addition to BAE Systems growing portfolio of autonomous systems. The GA22 airship, perfect for deployment into roles such as communications relay stations, will be updated and adapted to carry payloads, such as high tech surveillance equipment at up to 150 kilograms in weight, to heights of more than 6,500 feet. BAE Systems plan to integrate their existing Unmanned Autonomous Systems into the GA22 making the technology more accessible to potential users.


Picture
(click to enlarge):
From
Time for TARS Along USA's Southern Borders [>]
. A quote -
An

aerostat

is a lighter-than-air craft that relies on a ground tether for movement and often for power as well, as opposed to

blimps

which are self-powered, free-flying craft.


Picture
(click to enlarge):
From
Where Did All the Airships Go? [>]
. A quote -
A few years ago, the Air Force was all excited about "near space," the area between 65,000 and 325,000 feet above sea level. The plan was to put lighter-than-air ships up in this region above the jet stream for persistent surveillance. I, too, got excited, because I love everything and anything to do with lighter-than-air vehicles. But one by one, many of the near space efforts have been killed off or scaled back (although some appear to go on, as Bill Sweetman notes over at Aviation Week's ARES blog).
Hybrid Airships
Airlines.net - Lockheed Martin P-791
Picture
(click to enlarge): Picture of the Lockheed Martin P-791 aircraft. (
Lockheed Martin's Secretly Built Airship Makes First Flight (Feb 5, 2006) [>]
)
Intro:
N791LM (cn 0001) I was at the Blackbird Air Park when suddenly this black project hybrid airship took off. It has been secretly built by Skunkworks as a heavy-load carrier. To gain more span to act like a wing, the P-791 is three pressurized lobes joined together. It uses four air cushions as landing gear, located on the outer lobes. It appears to have four propellers-two at the tail and two on the sides. A hybrid airship derives most of its lift by lighter-than-air gas, the rest by its shape and span.
Subjects:
From Wikipedia [>]: The P-791 is an experimental aerostatic/aerodynamic hybrid airship developed by Lockheed-Martin corporation. The first flight of the P-791 was made on 31 January 2006 at the company's flight test facility on the Palmdale Air Force Plant 42. According to press reports, the designation "P-791" has no particular meaning.

Although Lockheed-Martin is developing a design for the DARPA project WALRUS, the company claims that the P-791 is unrelated to WALRUS. Nonetheless, the design represents an approach that may well be applicable to WALRUS. Some believe that Lockheed-Martin has used the secret P-791 program as a way to get a "head-start" on Worldwide Aeros Corporation, the other Phase I WALRUS competitor.

Picture
(click to enlarge):
From
The Hybrid Aircraft Flies - A Press Release According to Aviation Week [>]

Picture
(click to enlarge):
From
It's a hovercraft, it's a blimp... [>]
. A quote -
It's an experimental craft called the P-791, made by Lockheed-Martin. The lumbering take-offs and landings are curious. It's alleged to be over 60 meters (~200 feet) long.
Civilian Dirigibles

Picture
(click to enlarge): From
Luxury Airship Filled With Helium, Rich People [>]

Picture
(click to enlarge): From
As-Yet Unbuilt Aeroscraft ML866 Nonetheless Officially Launched [>]

Picture
(click to enlarge): From
Blimp News! The Strato Cruiser Luxury Blimp Concept Design [>]

Picture
(click to enlarge): From
Zeppelins are Back, Too [>]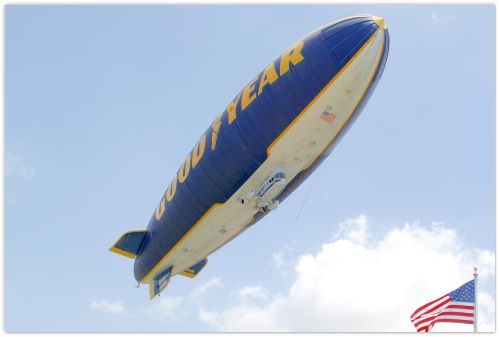 Picture
(click to enlarge): From
Alameda Naval Air Museum [>]
. Goodyear Blimp "Spirit of America" (N10A), Photo by John Shupek

Picture
(click to enlarge): From
Horizon blimp one of just 20 in the world [>]
.The Horizon Blue Cross Blue Shield of New Jersey airship will cruise the state through October.

Picture
(click to enlarge): From
The future of hyperblimps (and some necessary background) [>]

Picture
(click to enlarge): From
Blimp catches some eyes on Day 1 [>]
. DAVID AHNTHOLZ / Daily News. The Ginn Resorts blimp circles over Quail West on Friday during the first round of The ACE Group Classic.

Picture
(click to enlarge): From
Inventors to Start Work on Second Personal Blimp [>]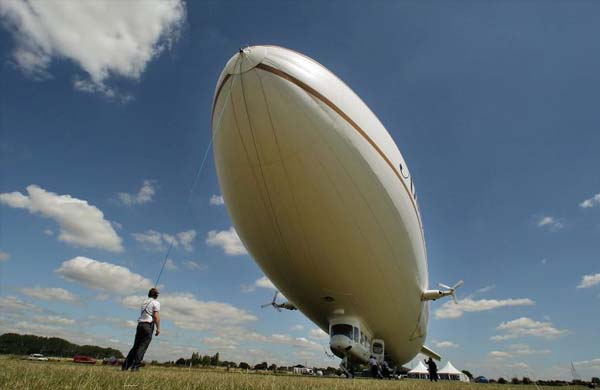 Picture
(click to enlarge): From
Seeing London by airship [>]
gallery. The Stella Artois Airship, built by Zeppelin, prepares for take-off in Essex. Photograph: Peter Macdiarmid/Getty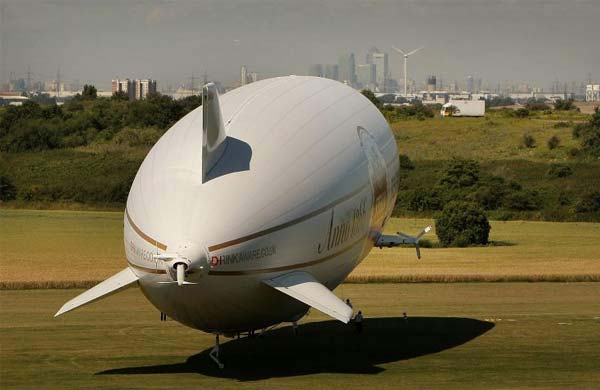 Picture
(click to enlarge): From
Seeing London by airship [>]
gallery.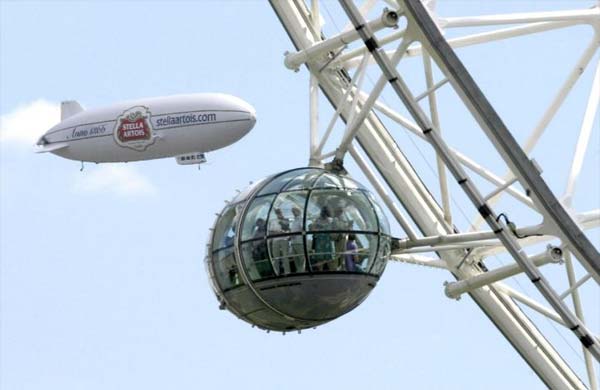 Picture
(click to enlarge): From
Seeing London by airship [>]
gallery.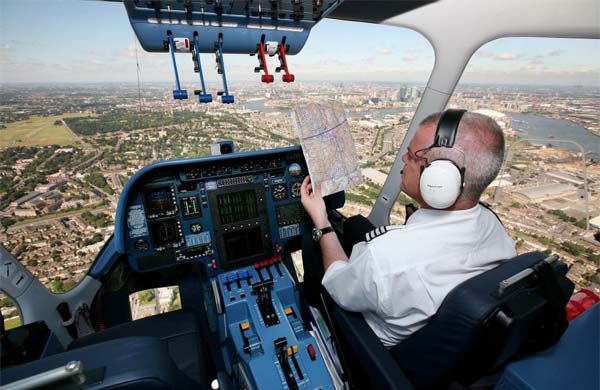 Picture
(click to enlarge): From
Seeing London by airship [>]
gallery.

Picture
(click to enlarge): From
Solar Power Generating Blimp for Disasters [>]
History and Galleries

Picture
(click to enlarge): From
Countryman & McDaniel [>]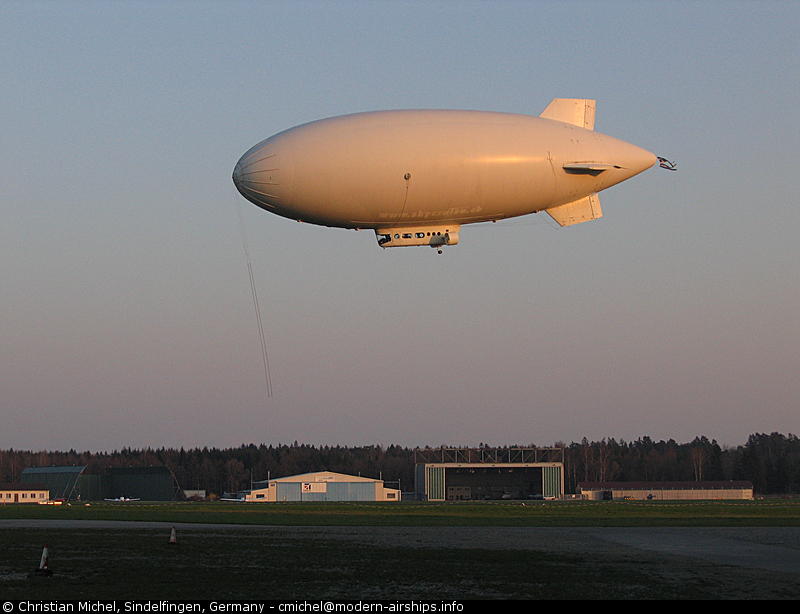 Picture
(click to enlarge): From
Welcome to modern-airships.info [>]

Picture
(click to enlarge): From official website of
Goodyear Blimp [>]
gallery.

Picture
(click to enlarge): From
Alert the amphibious squadron! [>]
. A quote -
I don't often link to interesting posts from Modern Mechanix because once you start, where do you stop? But I am compelled to point out this one which reprints an October 1934 Modern Mechanix and Inventions article about an American (presumably) idea for a solar-powered flying airfield.